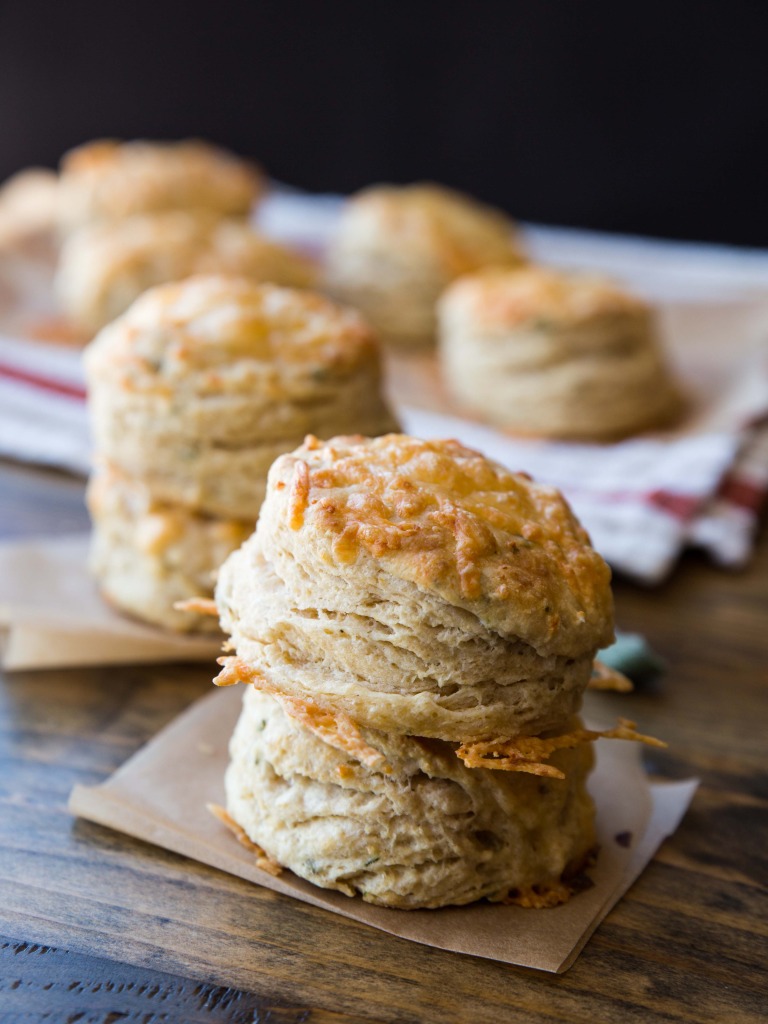 Don't
these
look delicious?!?
Simple Gouda and Sage Biscuits
Fluffy, buttery and flavorful biscuits made with gouda and sage. Easy, quick, and perfect for special occasions.
YIELD: 10 biscuits PREP TIME: 10 minutes COOK TIME: 12 minutes TOTAL TIME: 22 minutes
Ingredients:
1 cup milk (see note)
1 tablespoon apple cider vinegar
1 1/2 cups white whole wheat flour
1 1/4 cups unbleached all purpose flour
1 tablespoon cane sugar
1 1/2 tablespoon baking powder
1 1/4 teaspoon sea salt
¼ teaspoon ground black pepper
6 tablespoons unsalted butter, cubed and chilled
4 ounces gouda cheese, shredded (about 1 cup), divided
1/4 cup sage leaves, packed, finely chopped
Directions:
Preheat oven to 425
Measure out 1 cup of milk. Remove 1 tablespoon and set aside to use later.
Pour 1 tablespoon of apple cider vinegar into the cup of milk. Mix and let sit for 5 minutes.
In a large bowl, whisk together the flours, sugar, baking powder, salt, and pepper. Add the cubes of butter, and use a pastry blender/your hands to rub in the butter until you only have small pieces visible in the dough.
Fold in the sage and 1/2 of the cheese, and then pour in the milk and vinegar mixture. Use a wooden spoon to mix until a loose dough forms. Turn out onto a floured surface, and knead for one minute, until you have a smooth dough.
Roll out into 1/2-inch thickness, and use a 2 5/8 biscuit cutter to cut out biscuits. Place biscuits on a parchment-lined baking sheet. Form the scraps into a ball and roll out again into 1/2-inch thickness, and cut out biscuits. You should end up with 10 biscuits total.
Brush the remaining tablespoon of milk on the biscuits, then top with remaining cheese. Bake for 12-14 minutes, until lightly golden on top.
If not eating right away, store in an airtight container and reheat at 325 for 10 minutes.
You can replace the milk and apple cider vinegar with 1 cup buttermilk. I find that when I buy a carton of buttermilk it ends up sitting in my fridge unused, so I make my own.
Nutrition Information: Serving Size: 1 biscuit, Calories: 240, Sugar: 3.2g, Sodium: 390mg, Fat: 11.1g, Saturated Fat: 6.8g, Carbs: 28.8g, Fiber: 2.6g, Protein: 7.8g, Cholesterol: 33mg
I'm wondering how these would be made with smoked Gouda? I may have to try it.