It got down to 34 here yesterday morning. It was 80 two weeks ago and now we have this crap. Everybody is sick and cranky, especially me. I wanted something good the other day, and couldn't decide what. Soup sounded good, so I made myself get up and throw some together. (Sorry, canned soups just have too much sodium for my taste these days) I couldn't decide which of my favorites I wanted, so I made these two and now I don't have to cook for a day or two...unless I get hungrier for something more substantial! I may have posted these in the earlier days of the blog- I was too tired/lazy to go back and check.
First up is
this
gem. It's the Homemade version of Olive Garden's Chicken & Gnocchi Soup.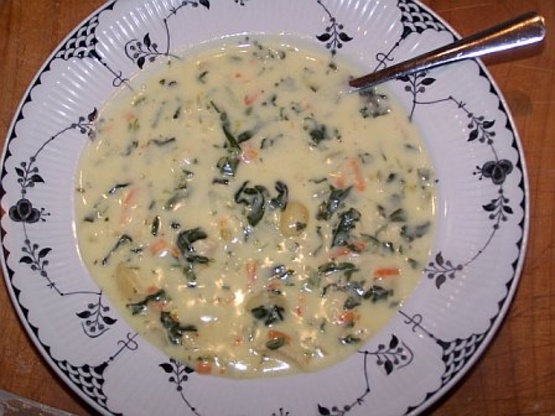 INGREDIENTS
3 -4 chicken breasts, cooked and diced
4 cups chicken stock
2 cups half-and-half
1 stalk celery, diced
1 garlic clove, chopped
1⁄2carrot, shredded
1⁄2onion, diced
1 cup fresh spinach, chopped
1 tablespoon olive oil
1 teaspoon thyme
salt and pepper
16 ounces potato gnocchi
1 tablespoon cornstarch (optional)
DIRECTIONS
Saute the onion, celery, garlic, carrot in oil over medium heat until onion is translucent.
Add chicken, chicken stock, half and half, salt and pepper, thyme. Heat to boiling, then add gnocchi. Gently boil for 4 minutes, then turn down to a simmer for 10 minutes.
Add spinach and cook for another 1-2 minutes until spinach is wilted.
(Heat to boiling and add cornstarch dissolved in 1-2 Tbsp water at this point if you want a thicker soup.).
Ladle into bowls and serve!
SERVINGS 8-10
I used mini-gnocchi this time, but any version will work.
The other one that sounded good to me was my version of Whole Foods Salmon Corn Chowder. I had bought a chunk of smoked salmon of Friday, thinking I would take it to work for snacking on with cheese and crackers. Most of it went into the soup instead, but there's enough left for a good snack. This is a fast & dirty cheat recipe, based on cans (I know what I said above, but work with me) and a few fresh ingredients.
This picture isn't my recipe, but it's close enough. I forgot to take a picture, so this will have to do:
2-4 oz hot-smoked salmon, flaked or cut into smallish chunks (not the bright pink lox you would serve on bagels, the other kind)
1 can creamed corn
1 can cream of potato soup
1/4-1/2 small onion or 1 lg shallot, finely chopped
1 clove of garlic, minced
1/2-1 carrot, shredded
1/2-1 rib celery, finely chopped
1-2 tbsp olive oil
1 tsp dill
Heat the olive oil in a large saucepan. Add the fresh veggies and cook over medium heat, stirring constantly, until they are soft but not quite browned. Stir in the soup & creamed corn, allow to come to a simmer. Stir in the salmon & dill, allow to simmer for 15-30 minutes, depending on how hungry you are. If you prefer a thinner soup, you may wish to add a splash of milk or 1/2 & half just prior to serving. If you like it thicker, a bit of cornstarch dissolved in some milk and added to the pan will help.
2-4 servings depending on how hungry you are and what size bowl you use.
Both of these are good with crusty bread, plain or buttered.